Building the Ultimate Remote Office in Thailand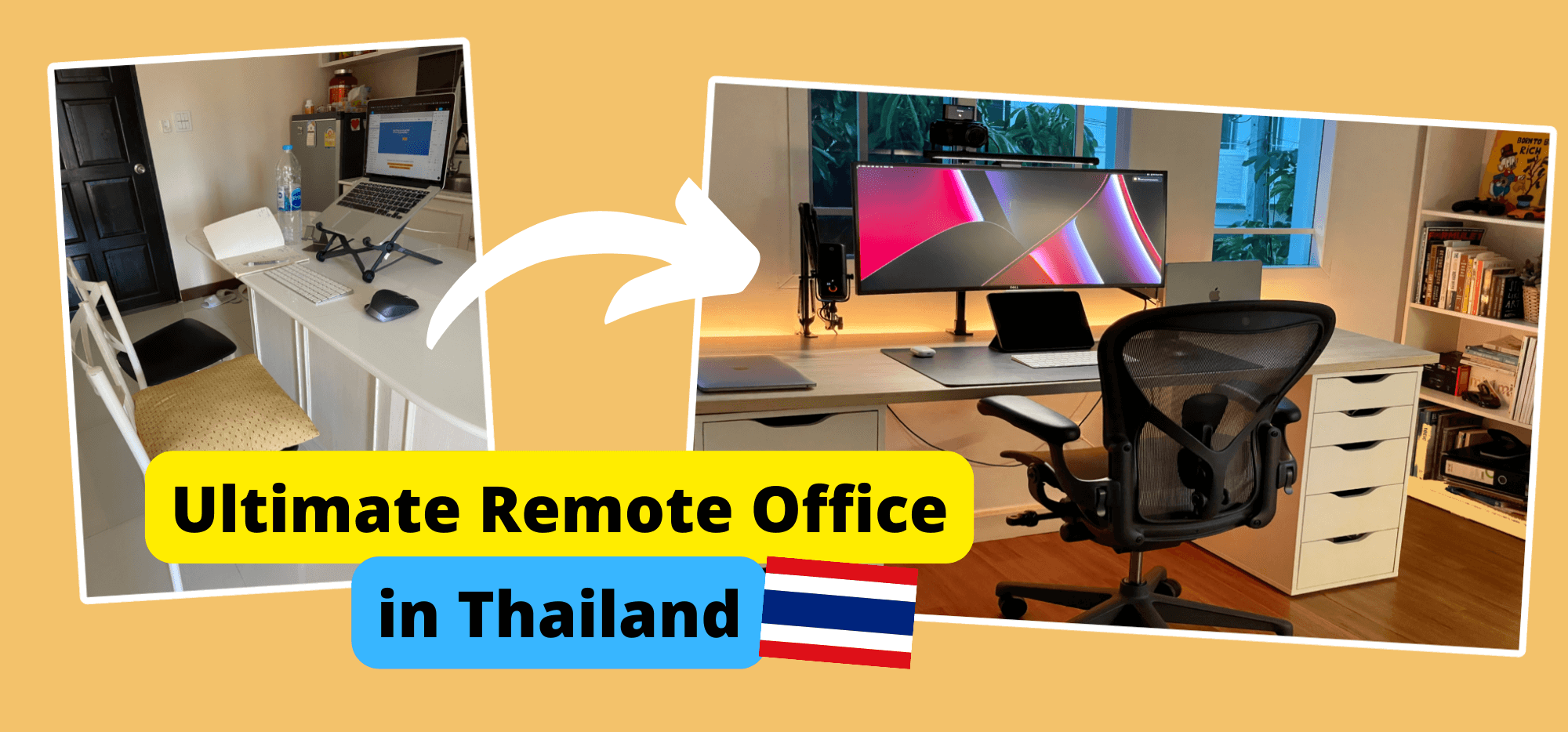 As someone who was always moving to new places and had never stayed in the same place for more than a year, I always looked at those "Youtuber desk setups" with jealousy. How cool would it be to build a workplace, optimized for your needs?
Last year, I have finally found a place to settle down in Chiang Mai, a beautiful city in the north of Thailand surrounded by nature. And so, with an emptied out bedroom, I started building exactly that and settled on these criteria:

- Great for video calls: it's the primary way I talk to clients and coworkers, I want to have great video and voice quality.
- Versatile: I do a bit of everything at my desk, designing, programming, studying, writing, editing pictures and more. Needs to work well for every use-case.
- Portable: as much as I enjoy my home office, I don't want to work there all the time. I need to be able to use the same equipment when working from a cafe a few days a week or traveling to other countries
Computer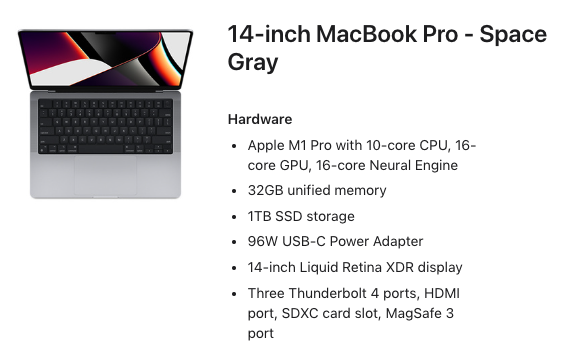 I use two computers, one for personal/side-projects and the other one was issued by my employer for work.
My personal one is 13" first-gen M1 Macbook Pro with 16GB of RAM. My work device is a 14" M1 Pro Macbook Pro with 32GB of RAM. They are mostly used in clamshell mode but I do enjoy working from a cafe a few times a week.
I've got an aluminium vertical stand so I can stand them up vertically and free up some desk space to make it feel less cluttered.
iPad Air
I've bought the 4th gen iPad Air with the best intentions of using it as a work device. Using it as an extra monitor, taking notes, and maybe even doing actual work from it while traveling but I can't say it has quite turned out that way.
iPad OS is just not the best option for getting work done and whenever I tried, the feeling that whatever I was doing would be faster on my MBP was always present.
The iPad is a great consumption device and my favorite way to consume media, it's also super popular with students taking notes and writing documents judging by the 9:1 ratio of iPad to laptop I see with students, but I can't say it's a staple in my work setup.
Given that it's a pre M1-model and Apple is limiting iPad OS multitask features to just those models, I don't see that changing and it's main use will likely be limited to a secondary monitor while traveling.
Mouse and Keyboard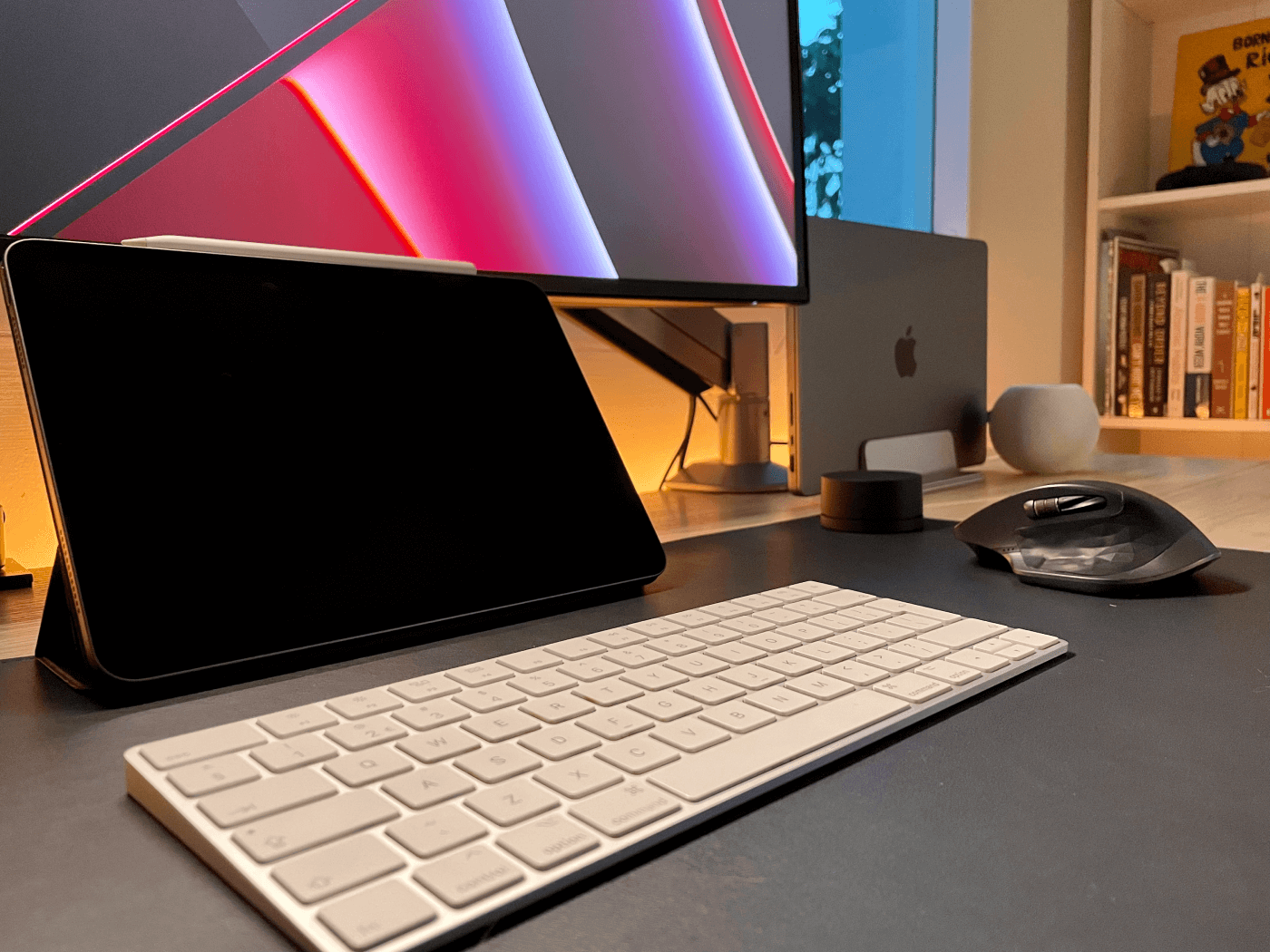 My peripherals have been lasting for many years already and don't need to be replaced that often. I'm using the Apple Magic Keyboard together with the Logitech MX Master 2S.
Although the Magic Keyboard is super comfortable to type on and rarely ever needs to be charged, there's some improvements I'd like to see in a new generation of this keyboard such as keyboard backlighting and being able to connect to and switch between multiple devices.
The MX Master 2S is one of the most comfortable mouses I've owned but hasn't aged very well. There's a design flaw in the product that makes the mouse stop working which I've had to fix myself by loosening the gesture button switch. It also doesn't support Apple's universal display so I can't scroll when using it with my iPad. Both of those issues seem to not be a problem in the newer MX Master 3 though.
Monitor
I'm using a 34" Ultrawide from Dell (U3421WE) as my main monitor. Although it's missing some pixel density, the size is really nice. I can easily fit 3 windows side-by-side which is a huge advantage over the standard split-screen that normal monitors offer.
When I'm coding I can see the design/ticket, my editor and the browser preview. I also have an Apple Notes window open on the side where I track my todo's plaintext productivity style and I take notes during calls before moving it into my note taking system later.
The monitor is held up by a BeWiser D2S monitor arm that holds the weight of the monitor without issues. Having a monitor arm isn't necessarily but it really frees up a lot of desk space and makes it look less cluttered and makes cable management easier too.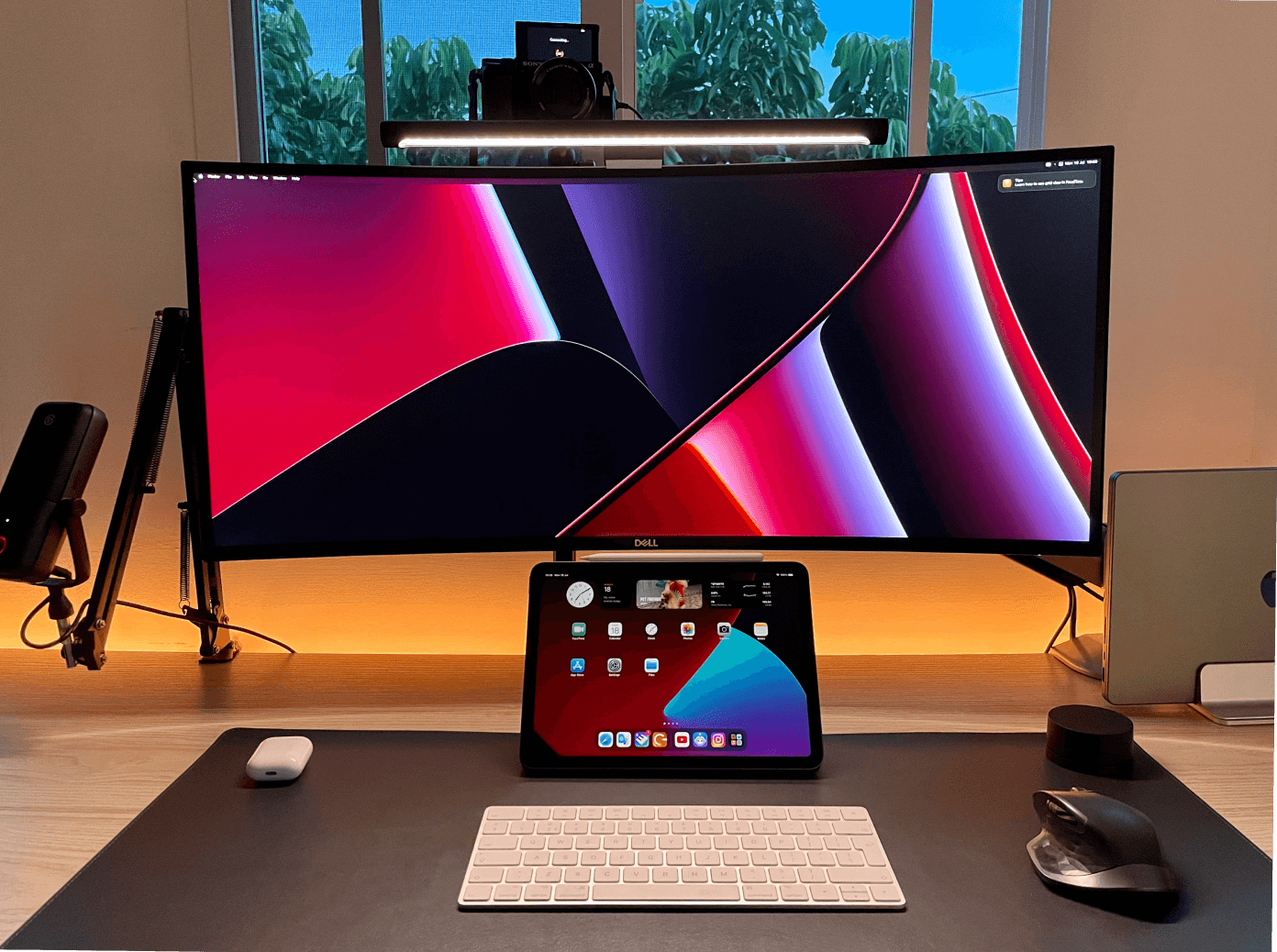 Camera
Given that everyone I work with only sees me on their screen, I figured it would be worth investing in a good camera that can go far beyond the mediocre quality of a webcam.
I bought a Sony Alpha a6400 which is usable as a webcam right out of the box, no Camlink or other hardware needed. I also use the standard kit lens, which is good enough in my opinion. The camera is set on top of a monopod with a desk clamp.
2 years in, I'm not sure if I would invest in this again. Video calls are mostly low-quality anyway and it's a bit of a hassle to use a DSLR as your webcam. The newer 14 and 16-inch Macbook Pro's have a decent webcam now as long as you make sure the light is okay.
The newest iOS update also allows you to use your phone as a webcam, which makes sense in theory but I've found it a hassle when I used it. It drains your phone, you can't use your phone during calls and it's a hassle if you want to answer some messages between back-to-back calls.
Microphone
I'm using an Elgato Wave:3 on a cheap mic arm. I know there are better microphones out there but they are all much more complicated to set up with XLR power and all. This is one of the best USB microphones out there and immediately elevates your voice quality on calls.
I use it in combination with Krisp for when my dog inevitably decides to bark during exactly during my call while being quiet the rest of the day..
Desk
Kept the desk very basic, went with 2 Alex drawer units with an ekbacken counter top as I've found that countertops are usually thicker and larger than desktops.
It works very well, lot of storage space and looks quite nice. The top isn't super thick and has started sagging a bit, would recommend either getting a support leg for in the middle or getting a top that is a bit thicker and can handle more weight.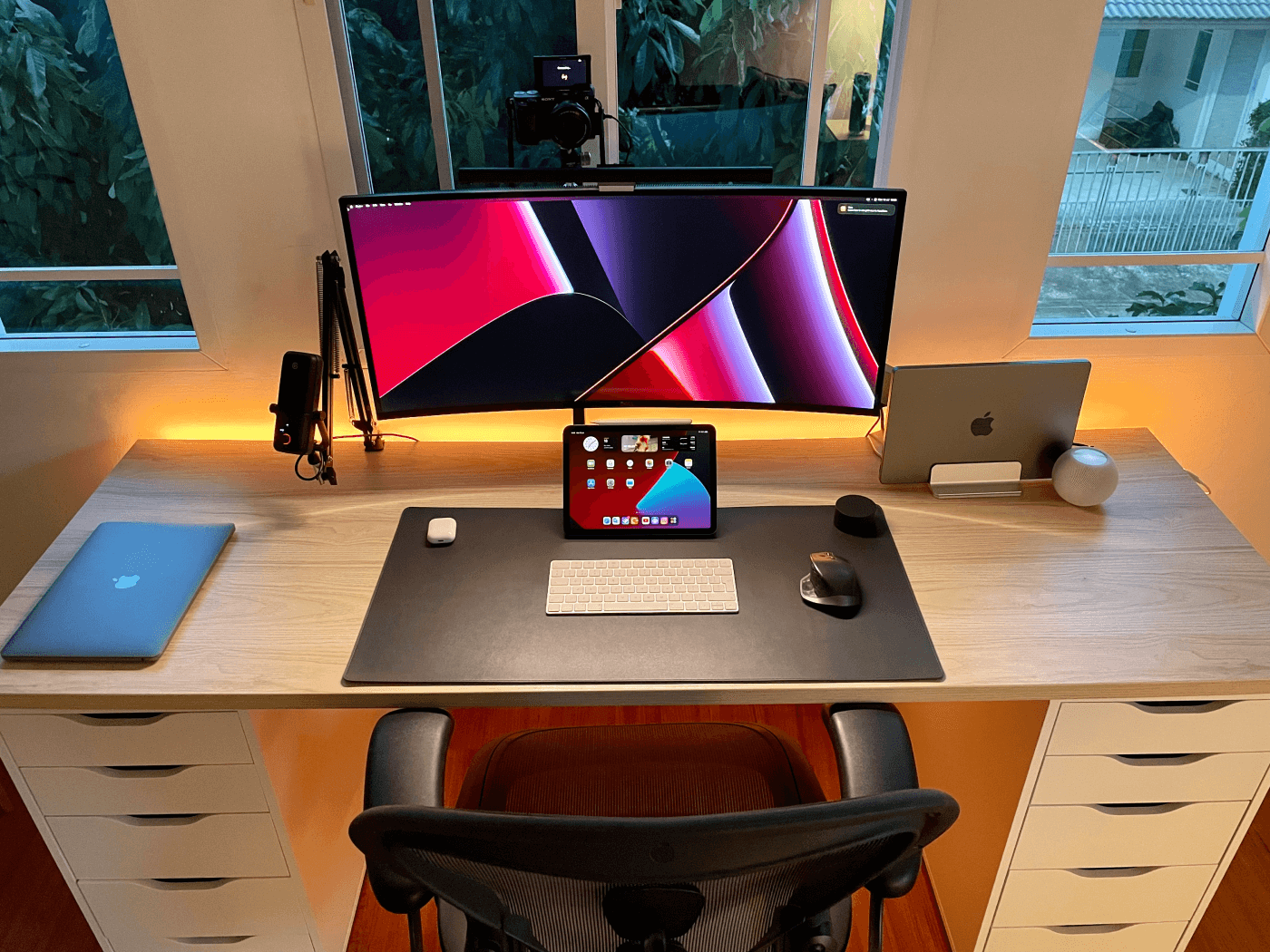 Lights
With it getting dark around 6pm in Thailand pretty much all year and my team being scattered between North America and Europe, I spent a fair amount of time working in the dark and thus wanted to find some good lights to reduce eye strain and make the room more enjoyable to work from.
To add some mood lighting to the setup I've attached a Xiaomi Yeelight Smart Led light strip behind my desk which can do many different colors.
On top of the monitor I also have a Xiaomi Monitor Light Bar which is great for lighting up my working area without causing glare on the monitor. Unfortunately the clamp can't stretch far enough to reach the thinkness of my ultrawide monitor, I've had to detach the clamp and secure it with tape instead. You can also 3d print a riser to make it work.
Climate
Living in Thailand also brings some challenges around keeping the office comfortable. The summer gets very hot, the winters very dry, and certain months we also deal with a lot of air pollution (like most cities in Asia).
During the "burning season" I'll have a Xiaomi Mi Air Purifier running in my office and other rooms throughout the house to maintain indoor air quality.

During the summer, temperatures can reach up to 45C (113 °F) and since my office is on the sunny side of the house, it can get quite hot inside too. I'll mostly have a fan running (16" Hatari) but during the hottest hours of the afternoon I'll turn on the AC for a little bit or otherwise head to a cafe if I don't have calls to work from a cooler place.
During the winter I'll usually have a cheap air humidifier running.
Software
Krisp - Removes background noise from meetings
VEED - Record, edit and share videos for presentations, bug reports, etc
Rescuetime - Measure how I'm spending my time
Todoist - Manage everything I need to do
Mullvad - VPN software with good privacy
Obsidian - Best note taking app
Raycast - Can't miss this
BetterTouchTool - Makes the touchbar on my personal MBP actually useful
Bartender - Keeps the toolbar clean
Rectangle - Great window management software
Menu World Time - See the local time in difference timezones from the toolbar
Summary
I'm really happy with my current set up and I'm glad that I finally decided to properly invest in a home setup where I can work from.
Finally having a comfortable place to work from and in a separate room has really removed a lot of the friction in my day-to-day work.